WELCOME TO ST.PETERS ATHLETICS CLUB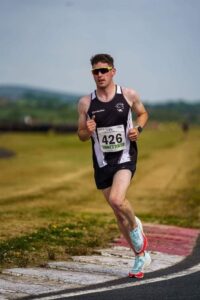 Although, not quite the year club runners had hoped for with numerous running events cancelled including the yearly pilgrimage to the Dublin City marathon, 2021 did have some notable highlights.
After a 15 month lay off, we did get back to covid restricted training in April with a lot of runners chomping at the bit to get going again. We welcomed new members including Fiona now working on her full club coaching badge.
We also encouraged our younger members to join our run for fun training now taking place during club sessions. Uncertainty was the buzz word for a lot of our usual runs in our diary although the major events went ahead. We did have strong teams out for London, Larne, Armagh 10 miler, Seeley Cup and the end of year Lough 5.
Club records came tumbling down in half, full and ultra marathons and the personal performances of Gillian, Jenna, Stephen, James, Caomihe and Caelin have made us all very proud to be part of this very special club where all our runners no matter what age, gender, speed, time, distance all have their place and and personal performance is the real winner. We look forward to a new year and welcome all back this week. The team wish everyone all the very personal best. Run on 22!
St Peter's AC is based in the Lurgan County Armagh, N Ireland and is an officially
affiliated club with Athletics Northern Ireland. The Club prides itself on a long tradition of athletic training in all aspects of the sport. The club welcomes athletes of all abilities from complete beginner to proficient competitors, male and female in junior and senior sections. With a current membership of over 80, the club competes strongly in local, national and international events. The Club today continues to develop in line with the standards of the Irish Athletic Association/NI Athletics.
For Membership information please contact us via the Contact Form.