WELCOME TO ST.PETERS ATHLETICS CLUB
Super September for St.Peter's
Sep6th – What an amazing weekend for club runners taking part in events from Donegal to Dingle and the biggest half marathon in the world, The Great North Run. A proud day for David Hamilton the first N.Ireland athlete across the line in a field of 56,000, and yes another Pb in a eyewatering 1.13,
David was spilling the beans to the media about the Magic St.Peters dust and even some fella Mo Farrah stopped to listen. Jenna again another Pb, club runners rising with every race. At the other end of the scale we had the
senior masters also going for a long run, and the Donegal adventure lads giving it all!
Sept-22 Amazing running from club runners in today's Belfast half and what a run from David Hamilton who came 7th overall, smashing his Great North run by a full 1.30 in an eyewatering 1.12, the club's best ever
placing in the Belfast half! A great turn out from club runners all round with Superb PBs from Tiernan 1.36 and Paddy also,and just in the last week Gillian on the podium at the east of Ireland 3/4 marathon! What a week!
Sept 29-Another super weekend of racing for club runners taking part in runs all over, PBs and podium places a plenty,in the NI and Ulster 10k at Bangor the man on fire David Hamilton came home with yes another Pb in 33.40! and Caoimhin Robinson in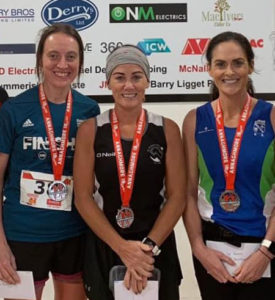 37.16 in this most prestigious race. Eileen and Daniel on the podium at Annaghmore festival with a first and 3rd, with the club out in force to support Mark Devlin and his team.And still hoping to make The Guinness book of records John made it 30 halfs in his 32 county challenge at the Monaghan half, amazing John!
St Peter's AC is based in the Lurgan County Armagh, N Ireland and is an officially
affiliated club with Athletics Northern Ireland. The Club prides itself on a long tradition of athletic training in all aspects of the sport. The club welcomes athletes of all abilities from complete beginner to proficient competitors, male and female in junior and senior sections. With a current membership of over 80, the club competes strongly in local, national and international events. The Club today continues to develop in line with the standards of the Irish Athletic Association/NI Athletics.
For Membership information please contact us via the Contact Form.