WELCOME TO ST.PETERS ATHLETICS CLUB
Super Sept for St Peters
 The club's newest member, some girl Radcliffe, says she's done s bit of running before! Hope she does the shirt proud in the Laganside 10k today! A few lucky Club members were invited to an audience with Paula Radcliffe, the meet and greet session organised by Patrick Mc Aliskey from Novosco in Belfast. was a great start to September. A photo session followed by a question and answer session proved to be very motivational and club members Patricia, Grainne, Stephen Dunn and Dwyer came away very impressed by the event.
Stephen Dunn was completing his 5th Great north run in a row, and along with Paul Casey
and Jenna the guys had great runs in the biggest half marathon in the worl   d, a new Pb for Paul casey on his second great north run! Great running guys.
Berlin- A new world record for and a new pb for Gillian. Kenya's Eliud Kipchoge smashed the marathon world record by clocking a time of two hours one minute 39 seconds in Berlin. Our very own Gillian was only 1 hour 19 behind in a new pb and an amazing 3 19. Delighted with her time and climbing all the time for the clubs mother of 3!
Belfast Half, -with over 4500 runners in the new look
Belfast half marathon the club had a great team of over 14 runners and some smashing times. The senior of the club Sean Farquhar had an all times best run in a half marathon and came in on 129, some running Sean. Other great times posted by Stephen Dunn, John Cawley who just completed back to back halfs with Dublin on the Saturday and Belfast on the Sunday in near identical times of 1.40,19 and 1.40 42.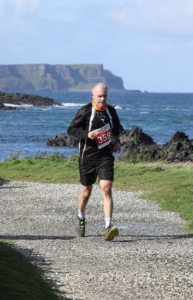 Causeway Marathon-The Only club runner to take on the full this year was Dwyer in an personal worst time!. The superb terrain is out of this world but def one for the hardcore marathon folk. Zara and Cj also posted great times in the half.
Annaghmore 18 miler, Getting a great reputation for a well marshalled road run with plenty of water and feed stations en route. The club had a great representation in over 12 runners. Excellent hospitality afterwards, were greatly appreciated.
Well done to everyone involved in organising the Annaghmore Running Festival. Congratulations Eileen Stevenson first lady home in the Half Marathon. Congratulations also to Emma Mulholland and Kaci Stevenson
who finished 1st and 3rd respectively in the 5K. Time – 2.32.53
Club Members -60th Anniversary Games Sunday 30th Sept. We would like to invite all club members and their kids to our games day on Sunday 30th sept.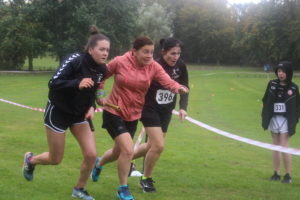 Runners are encouraged to enter a few races, at least 1 relay event and the annual 5 or 10k. Details and pairing to be decided! All club members will be able to collect their special event t-shirt! We would like thank everyone who made the 60th Anniversary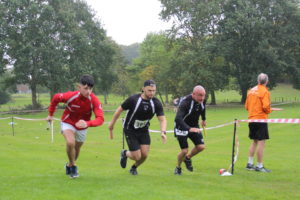 games such a big success, our sponsors Lurgan Vetinary clinic, Paddy Murray, Avonmore dairy, also Ceira for doing the registration and Patricia and her team for providing such a great spread of food. Thanks to all who participated!
St Peter's AC is based in the Lurgan County Armagh, N Ireland and is an officially
affiliated club with Athletics Northern Ireland. The Club prides itself on a long tradition of athletic training in all aspects of the sport. The club welcomes athletes of all abilities from complete beginner to proficient competitors, male and female in junior and senior sections. With a current membership of over 80, the club competes strongly in local, national and international events. The Club today continues to develop in line with the standards of the Irish Athletic Association/NI Athletics.
For Membership information please contact us via the Contact Form.