WELCOME TO ST.PETERS ATHLETICS CLUB
.
July Round Up-
Another super month of racing from club members in events from Achill Island to Delamount, Florida to Ardboe and Newcastle to Loughgall, with plenty of trophies and medals on show!

Well done Grainne Crilly 1st Lady in Ballyhegan 10k a very tough challenging course. A new event for the club in the Delamount 5x5k relays and the club winning the Lady's event with the men second just pipped by 29 seconds! the mixed team came second also,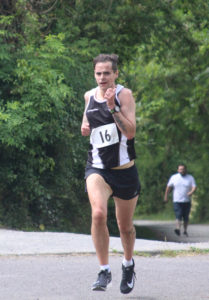 This was smashing achievement and all capped off with David Hamilton taking the course record with 18.15 seconds for a tough, tough, course, class times all round, 1st and 2 2nds out of 3 put us well above all the rest of the teams! Another good turnout for the club at Great
Rossa 10k & half marathon in Ardboe with super half times recorded, and Gillian 3rd lady!
7th July A new course record in the Junior park run this morning with a superb new course record by set by club junior Kian Moram in 7 mins 12secs ! for 2k
Some Extreme running at the Sea to Sky, Stephen, with the most inclement weather, but it didn't stop Agneskia Aga who came first in her section!
The race started on the beach in Newcastle and was be a multi-terrain race with most of the 10k course off-road. Runners  climb by forest trail to an elevated position where their efforts will be
rewarded by stunning views of Newcastle and beyond.
Holidaying in Florida but Sean and Linda Farquhar didn't leave the guddies at home! The Moss park, Florida in a Distance dare at 7.30am start in Moss park 10k & 5k 1st in age category & 2nd overall 4 medals in all and Linda ran well as well !
And what a running quest from John Cawley now on 24 of his 32 half marathon challenge, John completed Tipperary and Donegal this month for his 32 County Half Marathon
Challenge and it's 24/32 completed. John Was meant to run the Magee Wild Atlantic Way HM a couple of weeks ago but unable to do so because of my fathers sudden death. Never easy in Donegal with its hills and the heat also being a factor. This one was for you Dad.Well done John.
Better late than never for club senior Bill Devlin who found out he was on the podium for the Lisburn Half marathon,The club had some great results at Lisburn but this tops them all !Bill first in his age section! Amazing, lad!
Thanks everyone who has registered for St Peters Lurgan Lakes and Lough run in August – we've hit the 180 mark of entries.  Online entry only via https://athleticsni.org/Fixtures/Lurgan-Lakes-and-Lough
Check the great wee promo video too https://www.youtube.com/watch…
St Peter's AC is based in the Lurgan County Armagh, N Ireland and is an officially
affiliated club with Athletics Northern Ireland. The Club prides itself on a long tradition of athletic training in all aspects of the sport. The club welcomes athletes of all abilities from complete beginner to proficient competitors, male and female in junior and senior sections. With a current membership of over 80, the club competes strongly in local, national and international events. The Club today continues to develop in line with the standards of the Irish Athletic Association/NI Athletics.
For Membership information please contact us via the Contact Form.