WELCOME TO ST.PETERS ATHLETICS CLUB
.
June Round Up-
What a month for club Runners completing in events from 100meters to 52,000meters! The Maiden City Marathon is proving to be the highlight for many club runners, a great team effort from St Peter's with PBs all round! What an amazing achievement for Stephen Dunn in completing the Mourn Ultra 52 miles of Mournes!  Also John Cawley on his half marathon tour of Ireland clocking up 22 halfs in 22 countys. And great success for the youth with Emma and Tiernan firsts in the lakes 5k and Aghalee 10 k!
Great times coming through from team St. Peter's in the Derry City Marathon today, class
running guys! Pbs all round! Special mention to the senior master of the club Paul Casey, just short of his 57th birthdayin the Walled City Marathon 2019. As usual very warm and humid again but with strong head winds and a bit of rain for good measure.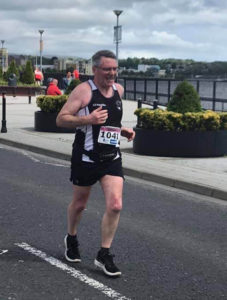 Absolutely delighted to finish in 3.49 on such a tough course. That's a new course PB by 16 mins.
What a day for Stephen Dunn with his longest race ever 52 miles 7800 feet elevation across the 7 Mourne mountains over and back again .He had rain, wind, sunshine and loads of mud took slightly longer than planned but got it done. What an achievement!
Aghalee 5k/10k charity run. Super event with lovely sausage and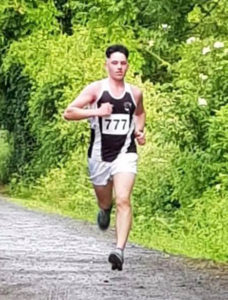 chip supper afterwards. Huge congratulations to Tiarnan on winning the 5k tonight, class lad. Congratulations also to Gillian
McCrory who was second lady home in the 10k with a new Pb to boot.
John Cawley,Avondale Forest Park Co. Wicklow for Half Marathon number 22 in my 32 County Challenge. Beautiful tough challenging course with plenty of rolling hills. Time – 1.48.20-super time John.
Smashing times from club runners in last nites Lisburn half and 10k races, with over 2500 runners taking park, our club was well up in all sections, This event has always well supported from the club, with some runners first taking it on 35 years ago! Well done to some of the senior masters proving we really are a club for all!
Well didn't we just go and win it!!! Jenna Burton who was part of the Female relay champions of Energia 24 2019. What a team who all pulled together and ran beyond anything they had ever done before.
Over 150 miles achieved between the girls in 24 hours!
What a real mixture at Energia 24 for Barry Shanks (or 17 for me). Started fine then suffered a bit with a calf niggle before finding my second wind with some great support. Tried to take a smart approach to it but in the end it wasn't happening and I had a decision to make, after a break at around 4am followed by a couple of laps to see how I was I pulled out. A big DNF.
On the plus side it was an experience and I ran further than I have before and for a longer time than before (that'll be my limits, never again). 70.8 miles or there about in 17 hours.
The photographs tell it all, What a great night. Well done to all of you. I really don't know how you guys kept it going, race after race. Particular thanks to Dwyer for all of the behind the scenes organisation as well as his work on the day.
Thank you also to Patricia for organising the refreshments and to all of those who helped her on the night. A proud night indeed for St. Peter's A.C. We're such a great wee team.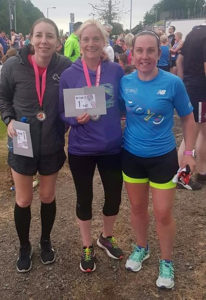 Fantastic turnout from St Peter's for the Newell 10k run on a very warm and humid evening, which was followed by wonderful hospitality. Well done Gillian McCrory on getting 3rd female overall and Fiona Toman 2nd in her age category, and Jenna 2nd in age category with St Peter's got top female team Well done everybody
There's life left in the oul dog yet! Dwyer is starting to believe in all these club speed sessions! Gold and silver in the NI Masters 200 m and 400 m 50-55 year old category at the Mary Peters Track today! Well done to Joan Melonophany 3rd on the 100m
Thank you gang for everyone who has registered for St Peters Lurgan Lakes and Lough run in August – we've hit the 120 mark of entries. Don't forget the early bird offer finishes in July! Online entry only via https://athleticsni.org/Fixtures/Lurgan-Lakes-and-Lough
Check the great wee promo video too https://www.youtube.com/watch…
St Peter's AC is based in the Lurgan County Armagh, N Ireland and is an officially
affiliated club with Athletics Northern Ireland. The Club prides itself on a long tradition of athletic training in all aspects of the sport. The club welcomes athletes of all abilities from complete beginner to proficient competitors, male and female in junior and senior sections. With a current membership of over 80, the club competes strongly in local, national and international events. The Club today continues to develop in line with the standards of the Irish Athletic Association/NI Athletics.
For Membership information please contact us via the Contact Form.