WELCOME TO ST.PETERS ATHLETICS CLUB
January February round up
January and most road runners taking a winter rest it was up to the BORN2RUNers competing in the series of forest races The Armagh marathoners were out to banish the Jan blues with the first marathon of the season and the new 10k nite race in Kilbroney finished off the long month of January.
A cold but bright and dry January morning saw a bunch of St Peter's AC runners head to the woods for the 6th race in Born 2 Run's Forest Run series. The venue was the scenic Tollymore Forest Park, a great race in all our B 2 Runners diary's.St Peter's were represented by; Stephen Dunn; Eileen Stevenson, taking on the 10k route. We even had a couple of course marshals helping out from St Peters – Dwyer and Paul Moore. January – Dwyer looking happy with himself and his 100th park run!
The ever popular cross border D.U.N.E half marathon took place and a few club runners braved the cold February day. The Armagh international road race and the fantastic Mulholland girls., Gillian and Eimer, also Joan and Ciara. Again the club had a strong team in the event with Gillian and Eimer getting Pbs
The 3km Road Race done in 10:20 (Unofficial). Fantastic experience and privilege for the club to be involved in such a big race/event which included the likes of Jonny Brownlee and other top elite International athletes from all over the world.
There was an international feel to Feb with the 50+ girls celebrating the half century with the Malta international Half marathon. Graine, Patricia, Rachael all having a great time!
There was a few cross country sessions over months of January and February in preparation for the NI senior cross country championships which took place on the 24th of Feb in lurgan park.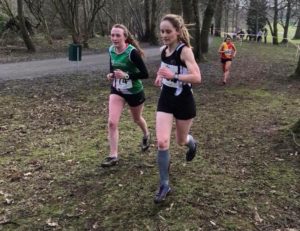 We entered a men and ladies team and the folks dug out their spikes!
A great day for the club, some great times posted for a tough 12k,although we are not know for cross country events, we made a great mark in this top team event. The men's team was 9 th out or 22 and the 2 ladies teams were 6th and
11th out of 32 , amazing well done folks!
 St Peter's AC is based in the Lurgan County Armagh, N Ireland and is an officially
affiliated club with Athletics Northern Ireland. The Club prides itself on a long tradition of athletic training in all aspects of the sport. The club welcomes athletes of all abilities from complete beginner to proficient competitors, male and female in junior and senior sections. With a current membership of over 80, the club competes strongly in local, national and international events. The Club today continues to develop in line with the standards of the Irish Athletic Association/NI Athletics.
For Membership information please contact us via the Contact Form.