WELCOME TO ST.PETERS ATHLETICS CLUB
March 2018  really kick started the race season Club runners involved in Carlingford half marathon, world major London and Boston marathons and Congratulations to Emma for her great performance in the Senior girls All Ireland schools cross country. Emma went from finishing 13th in the Ulster's to being the 7th Ulster girl home in the All Ireland's and 22th overall.Another great day for club runners, in the Lurgan park hospice run, with Sean Montgomery first and Daniel 3rd in the mens 10k and Emma first lady in the ladies 5k! First Class guys!
Great running today from Kathleen in the Washingbay half marathon 3rd female and a new Pb, class ! Oh Stephen back to his best as well!
Brilliant results from the 5k ladies team at Queens last nite, the team came 4th overall out of 24 teams!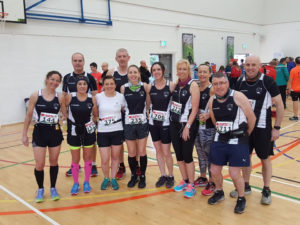 Top of the class girls! St Peters ladies team finished 3rd in the Omagh Half marathon this morning while the fellas finished in 27th place. Some fantastic times posted. Congratulations and well done to all. A special mention to our strongest team yet to run in the London marathon, with some amazing times posted in a sweltering 24 degrees! With 12 in total club runners it was a great performance from team St Peter's, agreat day for the club.We also had Dwyer in persuit of his world major marathon medal as he completed his 5th major in an horrendous torrential rainsoaked Boston!
The highlight of th April was the new Lurgan lakes and Lough 10 miler, this new must do race in the running calendar took place on
the shores of the Lough and attracted and amazing 400 runnes.The organisers plan to make it the new club race after it being such a great success.Well done guys!
 St Peter's AC is based in the Lurgan County Armagh, N Ireland and is an officially
affiliated club with Athletics Northern Ireland. The Club prides itself on a long tradition of athletic training in all aspects of the sport. The club welcomes athletes of all abilities from complete beginner to proficient competitors, male and female in junior and senior sections. With a current membership of over 80, the club competes strongly in local, national and international events. The Club today continues to develop in line with the standards of the Irish Athletic Association/NI Athletics.
For Membership information please contact us via the Contact Form.