WELCOME TO ST.PETERS ATHLETICS CLUB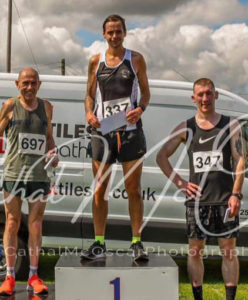 August Round Up- Aug not normally as busy as other race months but got off to a great start for David Hamilton following on from his record breaking July races, the Magherafelt 10 with a top race entry from clubs all over, David coming home with a 34.20
The Runner of the month award definitely belonged to Jenna
Burton in all distances starting with pbs in Carlingford 5k, the Mallusk 5 miler and first in her age section in the new Hillsborough running festival and the magheralin 5k, Jenna also had a pbs in the rathfriland 10k and 3rd in the clubs 10miler! What A month Jenna ! Still Rising!
Aug 3rd Another super weekend of racing for club runners with mighty pbs for Paddy, Jenna and Fiona at Carlingford and David no 1 podium place at Magherafelt 10k, a blistering 34 mins, beating the legendary Tommy Hughes! Another few legends in the making!
Hillsborough half- The club came out in force for the new Hillsborough half marathon and yes the woman herself Jenna Burton, first in her section!
What an absolutely amazing day for our club. I'd like to thank everyone who helped put on such a great event: club members and their families and friends, the Lough Neagh Discovery Centre staff, photographers, drone operator, time keepers, our pre-race warm up guru and our generous sponsors not forgetting the competitors of course. The amount of planning and organisation that went into putting 350 competitors on the starting line was incredible and thanks to Paul Moore and his team leaving no stone unturned, I can say, the outcome was nothing short of spectacular. We had loads of positive feedback from those competitors who were able to speak after the challenge of the heat; what a scorcher of a day. Same time next year! see images here-https://www.facebook.com/DoublevisionImages/photos
Congratulations to club runner Darren Malloy When 3 became 4 Welcome baby Fiadh!
Aug 25th Another super weekend of racing for club runners with David Hamilton storming the castle in Carrickfergus in second place from over 1000 in an amazing 34.20 in the unreal heat, and
Jenna Burton Rocking the Lough, 3rd lady 12th overall in the club's 10 miler! Amazing guys!
Aug 3oth -Another great nite for club runners with the guys turning out in force to support the Local Gaa club in the Magheralin 5k St. Peter's Gillian was 1st female & Fiona Toman 2nd Female and Jenna first in her age catgeory
And no better way to finish amazing August for Jenna in the Rathfriland 10K. Anothet great run with an amazing 3rd lady & PB Take a bow Jenna Burton!
St Peter's AC is based in the Lurgan County Armagh, N Ireland and is an officially
affiliated club with Athletics Northern Ireland. The Club prides itself on a long tradition of athletic training in all aspects of the sport. The club welcomes athletes of all abilities from complete beginner to proficient competitors, male and female in junior and senior sections. With a current membership of over 80, the club competes strongly in local, national and international events. The Club today continues to develop in line with the standards of the Irish Athletic Association/NI Athletics.
For Membership information please contact us via the Contact Form.